Thread Position of Valve Rod:
Outside Gate Valve
Usage:
Regulation, Safety, Emptying, Drain, Temperature Control, Flow Control
Application:
Industrial Usage, Water Industrial Usage, Household Usage
Bonnet:
Bolted Bonnet, Pressure Seal, Welded Bonnet
Wedge:
Solid, Flexible Wedge;Single Wedge, Double Wedge
Seat:
Renewable Seat, Back Seat
Stem:
OS&Y, Rising Stem, Non Rising Stem
Cryogenic Service:
Extended Bonnet for Cryogenic Services
Design:
ASME B16.34, API 600, API 6D, BS1414, DIN3352
Bore:
Full Port Design, Regular Bore Design
Connection:
Flanged or Butt-Welding End
Operation:
Hand Wheel,Bevel Gear,Pneumatic,Electric
Special:
by Pass on Request, Nace Mr-0175
Trademark:
O. E. M or AEA Brand
Transport Package:
Plastic+Wooden Case
Specification:
1500*1500*2000mm
AEAÂ 

Pressure Seal Gate Valve

s are designed in accordance with ASME B16.34 for service of high temperature and high pressure and are widely usead in nuclear plant and fossil fuel power plant. Compared with bolted bonnet joint valves, AEA pressure seal valves are more compact and rigid as well as maintenance cost-effective. Furthermore, it provides absolute reliable sealing of the bonnet joint.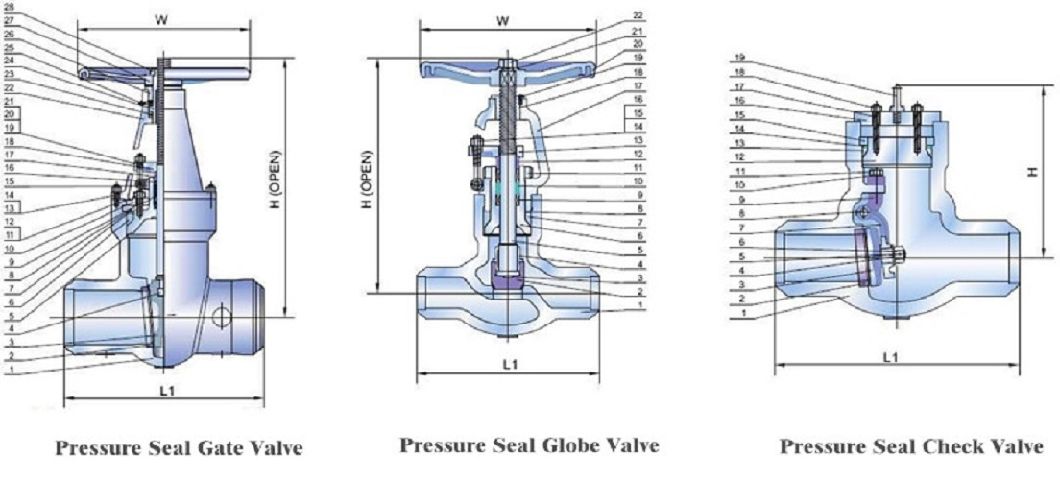 Product Range
-Valve size: 
2"Â ~Â 12"Â (DN50-DN300)
-Pressure:
 ANSI Class 600~2500(PN100-PN420) 
-Temperature:Â 
-196ºC~ 500ºC
-Body Materials:
Carbon Steel, Stainless Steel, Alloy Steel, Duplex Steel
-Trim (Disc/Stem):
Carbon Steel, Stainless Steel, Duplex Steel, Alloy Steel

 
Technical Specifications   
-Design: ASME 16.34/ API 6D/ BS 1868
-Face to Face: ASME B16.10
-End Flange: ASME B16.5, ASME B16.47
-BW End: ASME B16.25
-Test: API 598/ API 6D/ BS 6755
-Special: NACE MR-01-75

 
Design Features
-OS & Y, Rising stem
- Pressure Seal
-Flexible Wedge
-Backseat Weld-Deposited
-Flanged or butt welded ends.
-By Pass on Request
-Locking Device Optional
-Gear Optional
Size and Dimensions:
Class

Dimensions(mm)

NPS(inch)

2

2002/1/2

3

4

5

6

8

10

12

14

16

18

20

24

28

32

40

48

DN(mm)

50

65

80

100

125

150

200

250

300

350

400

450

500

600

700

800

1000

1200

150LB

L

178

190

203

229

254

267

292

330

356

381

406

432

457

508

610

711

813

1067

H

360

490

503

588

740

767

970

1158

1393

1543

1738

1955

2210

2698

2590

2870

3302

3962

W

200

250

250

250

300

300

350

400

450

500

600

650

650

700

800

800

1000

1000

300LB

L

216

241

283

305

381

403

419

457

502

762

838

914

991

1143

1346

1524

1955

2286

H

384

470

528

615

760

800

1005

1212

1455

1585

2035

2195

1680

2200

2641

2857

3713

4501

W

200

250

250

250

350

350

400

450

500

600

650

650

850

850

850

850

750

750

600LB

L

292

330

356

432

508

559

660

787

838

889

991

1092

1194

1397

1549

1778

2149

2667

H

495

550

615

735

826

970

1122

1330

1519

1716

2110

1727

2019

2383

2663

3100

3600

4600

W

250

250

300

350

400

450

500

600

750

850

850

850

850

600

600

750

750

750

900LB

L

368

419

381

457

562

610

727

838

965

1029

1130

1219

1321

1549

-

-

-

-

H

590

700

740

870

950

1078

1318

1580

1860

2004

2178

2362

2463

3048

-

-

-

-

W

250

300

300

350

450

560

640

800

800

900

1000

750

750

900

-

-

-

-

1500LB

L

368

419

470

546

673

705

832

991

1130

1257

1384

1537

1664

1943

-

-

-

-

H

590

700

780

880

1120

1222

1572

1830

2076

2057

2311

2438

2590

2946

-

-

-

-

W

250

350

400

500

600

720

900

900

1000

750

750

850

850

850

-

-

-

-

2500LB

L

451

508

578

673

794

914

1022

1270

1422

-

-

-

-

-

-

-

-

-

H

580

630

765

850

960

1100

1150

1460

1660

-

-

-

-

-

-

-

-

-

W

300

300

300

300

500

500

500

600

600

-

-

-

-

-

-

-

-

-