Model NO.:
Glass Autoclave
Designed Pressure:
1.6 MPa (16 Bar)
Designed Temperature:
150 Oc
Working Media:
Compressed Air
Heating Elements:
Via Inconel Tubular Heaters
Control Mode:
PLC+Touch Screen
Temperature & Pressure:
CPC (Composited Processing Control )
1. Technical description
The assembling of two or more glass sheets with a laminated plastic film interposed between them, after being adequately handled in autoclave, is called STRATIFIED GLASS. Of large use, and more and more requested by the market by virtue of the more restrictive norms in subjects like stoutness and security, are tempered glass, tempered/thoughened, both flat and curved, up to break-through proof and bullet-proof glasses. Therefore, it can be easily understood how the kind of assembling of laminated plastic (PVB) and above all the polymerization treatment inside the autoclave are of essential importance to obtain a product of good quality. In fact, the use of OLYMSPAN autoclaves allows to obtain the desired quality of the product. The reliability and the precision of the cycles in autoclave allow to reach and keep high quality standards of the product.
2. Equipment Details
2.1 General Structure
2-2 Quick Closing Doors
The whole system consists of three parts: A pair of gear flange, driven devices and seal ring.
The door opening mode for customer is electric. The seal ring is made of silicon rubber.
2-3 Insulation System
2-3-1 Insulation: Inner insulation
2-3-2 Insulation material: Aluminium silicate+ rock wool
2-3-3 Internal sheet metal: Stainless steel, 0.8mm
2-3-4 Insulation thickness: 80mm
2-4 Heating System
2-4-1 The heating system consists of the main heating zone and auxiliary heating zone, the Heating element located in the rear and sides of the kettle body duct to ensure Uniformity of temperature within the reactor during the heating process.
2-4-2 Electric heating via inconel tubular heaters
2-4-3 Multiple banks controlled via thyristor SSR and safety contactors.
2-5 Cooling system (heating exchange)
2-5-1 The main heating exchanger is made of Aluminum finned tube, which located in the rear of the Autoclave.
2-5-2 The auxiliary cooling system is made of Aluminum finned tube. Exchanger mounted In side wall for easy system maintenance.
2-5-3 In this phase the laminated glass contained inside the autoclave is made cold.
2-6 Control System
2-6-1 Control System is developed based on the research and development toward glass Processing industry, including the PLC central controlling part, touch screen (HIM) Operation system and network. The operation of the whole system is based on the Exclusive developed CPC (Composited Processing Control )software.
2-6-2 It can insert or save the production technique process, display the pressure and Temperature curve anytime; And its paperless record function can realize record, Save and check of technique curve and process parameters.
2-6-3 Advanced CPC control software makes the controlling technique during the process Of temperature waiting for pressure, pressure waiting for temperature possible to Ensure the simultaneous effect of temperature and pressure according to the settled Technique curve, and it also has over-temperature and overpressure alarm and Various safety protection functions.
2-6-4 Customer can operate register, login and typing in product information, and realize Intranet or remote control.
2-6-5 It can realize data output, printing, analyzing requirements to improve product quality.
2-6-6 Pictures of control system
2-7 Safety systems
2-7-1 Mechanical and electrical interlocks for door closure, the autoclave can not be opened When pressure in the autoclave higher than air pressure.
2-7-2 It will auto-alarm when facing over-temperature or over-pressure; Auto drop the Temperature when over temperature, and auto-release when over pressure.
2-7-3 Pressure safety relief valve, certified to CE
INTRODUCTION:
The Fine Seed Cleaner
is an universal equipment well suited for pre- and fine-cleaning for differenty types grain and seeds.The

Seed Cleaning Machine
is European standard high quality equipment. It brings high cleaning effect.
1) Function: fine cleaning to remove impurities, broken and abortive grains; grading seeds accroding to sizes.
2) Application: cereal grains and seeds.
3) Capacity: 5-15T/H
FEATURE:
Easy and quick operation and screen changing
The screen boxes are made of wear resistant plywood, which is approved for food Screen cleaning with special rubber balls, screens are easy to change.
cleaner has been developed specially for flexible, high quality cleaning for grains and seeds. It can be used for pre-cleaning and intensive cleaning, but mainly for seed cleaning.Durable surface of the machine owing to high-quality powder lacquering, We are the Fine Seed Cleaner Chinese supplier.
TECHNICAL DATA:
MODEL

CAPACITY

(T/H)

POWER

(KW)

WEIGHT

(KG)

DIMENSION

(mm)

5MF-5

5

20.9

3250

3200*1920*3600

5MF-10

10

24.4

3600

3800*1950*4050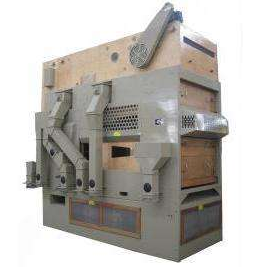 Fine Seed Cleaner
Fine Seed Cleaner,Sunflower Seed Fine Cleaner,Grain Bean Fine Seed Cleaner,Fine Grain Seed Cleaner
Hebei HELIDA Grain Selecting Machinery Technology Co., Ltd. , http://www.grainseedscleaner.com