Model NO.:
Wire Steel Fiber
Tensile Strength of Steel Wire:
600-2880MPa
Standard:
BS, ASTM, ANSI, JIS, GB, DIN, GOST
Application:
Metal Recycling Machine, Metal Processing Machinery Parts, Metal Spinning Machinery, Metal Coating Machinery, Metal Engraving Machinery, Metal forging Machinery, Metal Casting Machinery,
Metal Cutting Machine
I. Description
Illustration of working principle: Wire Steel Fiber Machine is adopting Germany technology; counter cutting technology; produced all types of steel fiber for concrete reinforcement. Differ from the traditional low capacity machine; you can get more than 6 tons hooked and steel fiber by using one our machine instead of six sets old style steel fiber machine.
Application: This machine can form and cut straight type, twist type, wave type, hook type, saw tooth type, dint type, etc.
Advantages: As a special steel fiber machine, we design a precision counter rotating cutters to suit the high speed running, also pay attention to the stable production, easy setting on the cutter and safety to the operator. Save your cost at least 20% money by using steel fiber instead of steel bar in concrete reinforcement, to considerably increased load-bearing capacity, high durability and high impact resistance for longer lifetime.
II.Machine Features
Production capacity:2 ton-7 ton per 8 hours shift
Steel Fiber Shape: Hooked End, Flat End, Waved Type etc.
Wire Diameter: 0.3-1.0mm
Tensile Strength of Steel Wire: 600-2880MPa.
Max Length: 60mm
Raw Materials: Stainless Steel Wire iron wire
Weight: 1200kg
Motor Capacity: 3KW
III.Commercial terms
1. FOB price: main machine: 7200 USD FOB Xingang Port, China                           
2. Payment: 30% T/T in advance, the balance 70% by T/T after check the machine at seller's factory.
3. Minimum order quantity: 1 set
4. Certification: ISO 9001 Certificate
5. Delivery time: 30 days from received your payment in advance.
6. Country of origin: China
7. Our guarantee time: 12 months after the equipment is accepted by the buyer, however, the guarantee period is no longer than 18 months after equipment's departure from Xingang port, China.
8. Installation: we could arrange our engineer install the machine in our factory.
IV. Contact Information

HEBEI JIAKEÂ WELDING EQUIPMENT CO., LTD
Hebei Jiake Welding Equipment Co.,Ltd. (Manufacturer)Â 
Factory Add: Wire Mesh Industrial Zone, Anping County, Hebei, China.
Tel: +86-311-80796161 Â  Â  Â  Â  Â  Â  Â  Â  Â  Â  Â  Â  Â Â Fax: 86-311-86053790Â 
Mob: +86 13739793517 Â  Â  Â  Â  Â  Â Â 
URL: www.dapumachinery.com 
CNC Fiber Optical Cable Laser Cutting Machine for Metals
Home Appliance, Environmental Equipment, Petroleum Machinery Manufacturing, Agriculture Machinery, Food Machinery, Aerospace Industry, Automotive Industry
The strong frame is completely welded, cast-aluminum cross girder; 600ºC high temperature annealing treatment and 12 meters large CNC gantry fine milling to ensure achieve long-term Wse without deforming. Equipped with the most advanced wireless handheld terminal, it can perform processing by remote control. Adopts imported Germany CNC system, high-performance AC servo motor and driver. It's a high-tech product integrated with advanced technology such as pneumatic, mechanic, photoelectric and CNC etc.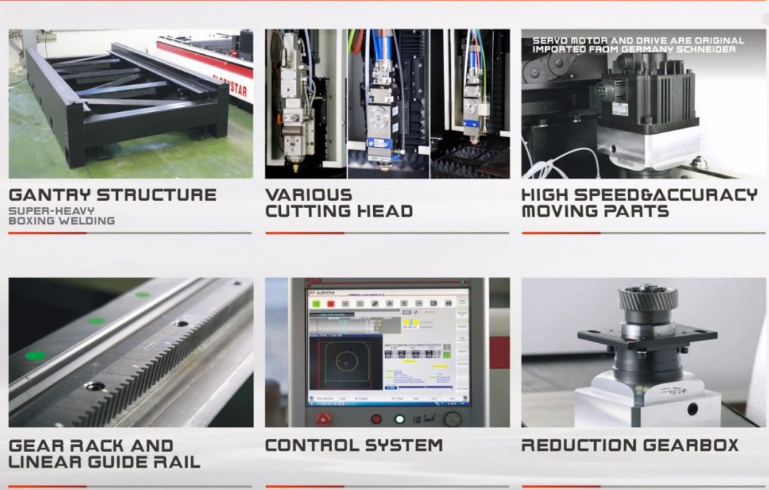 Applicable Materials
Mainly applied for all kinds of sheet metal materials non-contact fast cutting, engraving and drilling, such as carbon steel, stainless steel, alloy, manganese steel, galvanized steel, aluminum, copper and metal pipe processing, etc.

Applicable Fields
Widely used in all kinds of metal cutting industries such as metal working, kitchen and bathroom wares, advertising & signs, lighting & hardware, electrical cabinets, auto parts, machinery and equipment, appliance, precision parts, and so on.

Sample Show
3000W Fiber Laser Cutting Machine cutting parameters
Material
Cutting thickness(mm)
Cutting speed(m/min)
Cutting gas
Cutting pressure
Nozzle
Collimator / Focus
Error vertical section
Carbon steel
0.5
40-60
Air or nitrogen
8
1.5 single layer
75/125
0.1mm
0.8
35-45
Air or nitrogen
8
1.5 single layer
75/125
0.1mm
1
32-40
Air or nitrogen
10
2.0 single layer
75/125
0.1mm
2
16-18
Air or nitrogen
15
2.0 single layer
75/125
0.1mm
3
3.8-4.5
oxygen
0.5
1.0 double layer
75/125
0.1±0.025mm
4
3.2-4
oxygen
0.5
1.0 double layer
75/125
0.1±0.025mm
5
2.8-3.5
oxygen
0.5
1.2 double layer
75/125
0.1±0.025mm
6
2.5-3
oxygen
0.5
1.5 double layer
75/125
0.1±0.025mm
8
1.8-2.3
oxygen
0.5
2.0 double layer
75/125
0.1±0.025mm
10
1.2-1.6
oxygen
0.5
2.5 double layer
75/125
0.5±0.05mm
12
1-1.2
oxygen
0.5
2.5 double layer
75/125
0.5±0.05mm
14
0.8-1
oxygen
0.5
3.0 double layer
75/125
0.5±0.05mm
16
0.7-0.9
oxygen
0.5
3.0 double layer
75/125
0.5±0.05mm
18
0.65-0.8
oxygen
0.5
3.5 double layer
75/125
0.5±0.05mm
20
0.5-0.65
oxygen
0.5
3.5 double layer
75/125
0.5±0.05mm
Stainless steel
0.5
40-60
Nitrogen
12
1.5 single layer
75/125
0.1mm
0.8
35-45
Nitrogen
12
1.5 single layer
75/125
0.1mm
1
30-40
Nitrogen
13
1.5 single layer
75/125
0.1mm
2
15-18
Nitrogen
15
2.0 single layer
75/125
0.1mm
3
7-8
Nitrogen
18
2.0 single layer
75/125
0.1±0.025mm
4
5-6
Nitrogen
18
2.0 single layer
75/125
0.1±0.025mm
5
2.5-3
Nitrogen
18
2.0 single layer
75/125
0.15±0.025mm
6
1.6-2
Nitrogen
18
2.0 single layer
75/125
0.15±0.025mm
8
0.8-1
Nitrogen
20
2.5 single layer
75/125
0.3±0.05mm
10
0.5-0.6
Nitrogen
20
2.5 single layer
75/125
0.35±0.05mm
Aluminum
1
25-30
Nitrogen / air
10
1.5 single layer
75/125
0.1mm
2
8-11
Nitrogen / air
15
2.0 single layer
75/125
0.1mm
3
5-6
Nitrogen / air
18
2.0 single layer
75/125
0.1±0.025mm
4
3-3.5
Nitrogen / air
18
2.0 single layer
75/125
0.1±0.025mm
5
2-2.5
Nitrogen / air
18
2.5 single layer
75/125
0.15±0.025mm
6
1.2-1.5
Nitrogen / air
18
2.5 single layer
75/125
0.15±0.025mm
8
0.6-1
Nitrogen / air
20
2.5 single layer
75/125
0.3±0.05mm
Brass
1
25-28
Nitrogen
10
1.5 single layer
75/125
0.1mm
2
8-10
Nitrogen
15
2.0 single layer
75/125
0.1mm
3
4-5
Nitrogen
18
2.0 single layer
75/125
0.1±0.025mm
4
2.5-3
Nitrogen
18
2.0 single layer
75/125
0.1±0.025mm
5
1.8-2.2
Nitrogen
18
2.5 single layer
75/125
0.15±0.025mm
6
1.2-1.5
Nitrogen
18
2.5 single layer
75/125
0.15±0.025mm
8
0.6-0.8
Nitrogen
20
2.5 single layer
75/125
0.3±0.05mm
Copper
1
15-18
oxygen
12
1.5 single layer
75/125
0.1mm
2
7-8
oxygen
12
2.0 single layer
75/125
0.1mm
3
3-4
oxygen
12
2.0 single layer
75/125
0.1±0.025mm
4
1.2-1.5
oxygen
12
2.0 single layer
75/125
0.1±0.025mm
5
0.6-0.8
oxygen
12
2.5 single layer
75/125
0.15±0.025mm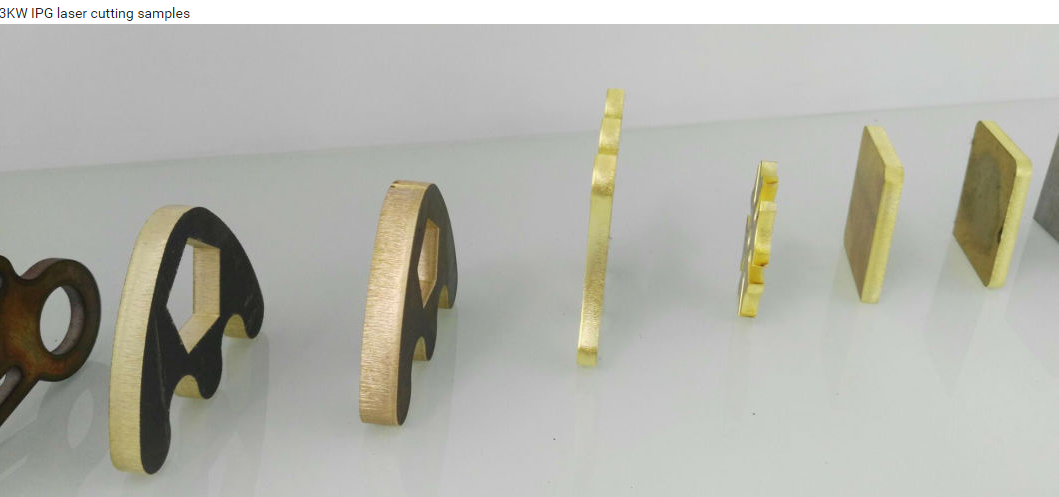 Fiber Laser Cutting Machine
Fiber Laser Cutting Machine,Steel Fiber Laser Cutting Machine,Laser Engraving Machine,Laser Cutting Equipment
Shandong Sunrise CNC Machine Co., Ltd , https://www.scmcnc.com