Dimension:
up to Flow Rate
Weight(Kg):
up to Flow Rate
Working Vacuum ( MPa):
-0.08~-0.099
Working Pressure( MPa):
Less Than or Equal to 0.4
Heating Stages:
2, 3, 4 ( as Per Request)
Features:
High Precision, Long Working Time, High Efficiency
Transport Package:
Wooden Case
Specification:
High Efficiency vacuum oil filtration equipment
Origin:
Chongqing, China(Mainland)
Vacuum Transformer Oil Filtration Equipment As Oil Treatment Plant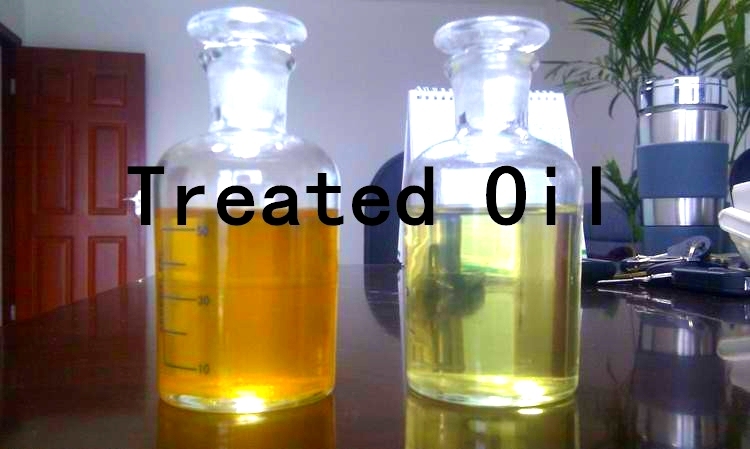 Why Unqualified Transformer Oil Be Purified Regularly?
Dissolved

 

gasses,water, particles and other harmful ingredients in transformer oil can cause arcing, corona discharges,and

 

overheating reducing the electrical efficiency and lifetime of the transformer.And it is dangerous for daily maintenance.Likewise,water contamination at levels as low as 30 ppm (parts per million) can adversely affect the insulating strength of the oil.With ever-increasing standards for energy efficiency of power distribution transformers,the need to effectively degas will become even more important in the future.particles contamination will also affect the function of insulating oil.So we need to clean used transformer oil.and cut down oil expenses.
Specifications:
To remove moisture, gas and particles in transformer oil, mutual inductor oil, switch oil and so on. and restore property of insulating oil, that is suitable for high voltage project 110KV-500KV.
Product Description:
Application:
Series ZYD Double-stage Vacuum transformer oil purifier can quickly remove water, trace water, gas, particles as well as acetylene, hydrogen, methane and other harmful ingredients from oil effectively to improve oil's dielectric strength, effectively making sure electric equipments working safely and normally. Series ZYD oil purifier is particularly suitable for treating high-grade transformer oil, super-voltage transformer oil and new transformer oil. It can be used for filtration of more than 110V substation live line work onsite. Meanwhile, Series ZYD oil purifier can be used as independent vacuum source with functions of vacuum drying and vacuum oiling.
Features:
1.Double-stage vacuum system, strong power of vacuum evacuating, ultimate vacuum value ≤ 5Pa 2.Two vacuum separating chambers, efficient oil film sprayer, increasing separating size and separating time to ensure the dry-level and dielectric strength improving greatly.
3.Double-horizontal film evaporation technology, combined with unique and advanced dewatering, degassing components, can rapidly and effectively separate water, gas from oil.
4.Multi-stage precision filtration system, mesh filtration combined with molecular adsorption technologies
5.Efficient electric heating system, heating uniformity, less power consumption, safe, and reliable.
6.Double-infrared liquid level sensor, pressure protective system to ensure machine operation easy and safely.
7.Adopt interlocked protective system, which connect Oil pump, heater and liquid level sensor, avoiding blank heating, blank pumping, oil leak and electricity leak. If there is any fault, machine will be power off automatically.
8.Functions of live line work onsite, vacuum drying and vacuum oiling.
Advantages:
Comparing with single stage transformer oil purifier, Series ZYD oil purifier can increase the effectiveness more than three times, more quickly and completely dewater, degas, remove particles to get higher dielectric strength. This equipment can be used as independent vacuum source with the functions of vacuum drying and vacuum oiling for the electric plants.
Techncial Parameters:
Index name

Unit

ZYD-30

ZYD-50

ZYD-100

ZYD-150

ZYD-200

Flow rate

L/H

1800

3000

6000

9000

12000

Working vacuum

MPa

-0.08~-0.099

Working pressure

MPa

≤ 0.4

Temperature range

ºC

20 ~80

Dielectric strength

KV

≥ 70

Water content

ppm

≤ 3

Gas content

%

≤ 0.1

Particles size

μ

≤ 1

Power supply

 

380V 50HZ 3Ph (As per user's option)

Working noise

dB(A)

≤65~85

Heating power

Kw

24

30

60

90

120

Total power

Kw

27.5

35.5

66

98

130

Inlet(Outlet)

mm

Φ25

Φ32

Φ42

Φ50

Φ50

Weight

kg

650

750

900

1200

1800

 

 

Purifier Dimension

L

mm

1500

1500

1750

1700

1820

W

mm

1250

1300

1500

1600

1700

H

mm

1700

1750

2100

2200

2200
Flow Chart:
Vacuum Oil Purifier Parts Options:
Our company provide good quality machine with competitive price; machine warranty time is 18 months from the
delivery date. We can make the specified machine as per user's options:
1.Trailer type with fully closed for protecting oil purifier machine(Waterproof and dustproof)
2.Choosing different kinds vacuum pump, oil pump, and electric parts.
3.Explosion-proof(EX type) electric parts.
4.Equips moisture sensor and dielectric strength tester on the machine.
5.Filter elements for different requirements on filtering precision
6.Stainless steel material for oil purifier body.
7.Automatic PLC control system
Picture: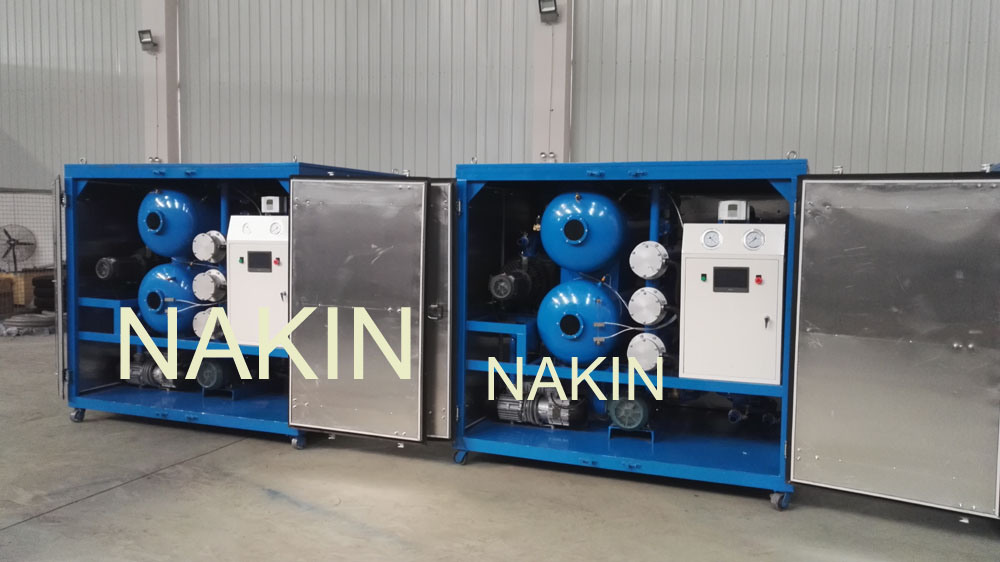 Company Introduction:
Nakin Electromechanical Co., Ltd is leading machinery manufacture, our products are mainly transformer oil purifier, turbine oil purifier, lube oil filtration, engine oil regeneration machine in high quality and competitive price. We has the strong technology and experience in the vacuum oil purifier developing, our machine have been exported to many countries, and service in many industries. 
Our products lists: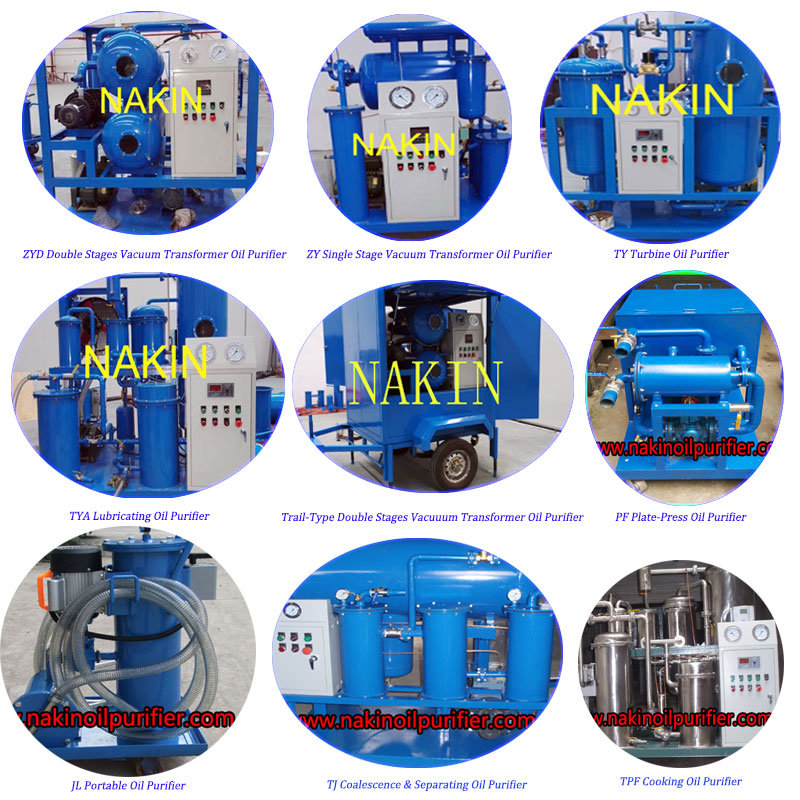 Environment friendly vacuum waste oil distillation plant
High effective vacuum transformer oil purifier, oil filtration
Double stages insulating oil purifier,oil treatment,oil purification
Mobile/trailer type transformer oil treatment,oil filtration mnachine
Air dryer for dring electric equipments
Turbine oil purifier,oil treatment
Coalescence and separating oil filter,oil purifier machine
Lubricating oil purifier/hydraulic oil purification


Phosphate ester fire-resistant oil purifier, oil filtration machine




Engine oil regeneration system, waste oil recycling




Transformer oil regeneration device,oil pruifier




Plate pressure oil filter, oil purifier machine




Portable oil piurifier,oil filtering,oil filter




BDV oil tester,insulating oil dielectric strength tester




Oil moisture sensor,water content tester
Certificates And Honors:

China Famous brand Oil Purifier Company
Golden-supplier for China National Electric power Group
Golden-Supplier for ALSTOM, SIEMENS, SCHNEIDER Company
ISO9001 products quality certificate
CE Products safety certificate
SGS Products local testing report
AAA Credit Rating Certificate
More than 10 years and 50 countries and districts exporting experience
Office: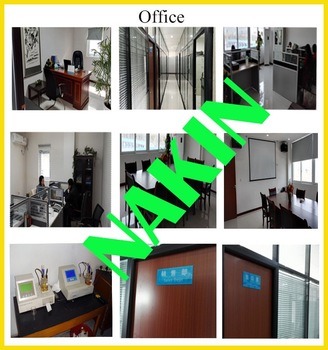 Our After-sales Service:
Free design of fixtures as customers required.




Free training for machines installation and operation of the staffs.




Engineer is available for local installation.




24 months warranty from the delivery time.




24 hours online service question and answer.




Engineers Overseas Aftersale Service are available.




All NAKIN manufactured machines will be guaranteed with spare parts and service for one year upon the receiving of shipment.




All our patent parts will be assured with old for new service in its entire

 

life

 

time free of charge.(User damaging is not included)
Packaging &Â Shipping:
Wooden case Suitable for sea transportation and air transportation.
How to Contact Us?
Contact person: jerrytan
Cellphone:0086-18223358936
Company Name: Chongqing Nakin Electromechanical Co., Ltd
Address: Luohuang Industrial Park Area B, Luohuang, Jiangjin, Chongqing, China
Tel: 0086-23-85575926Â Â Â Â Fax: 0086-23-85575930
 
http://www.nakinoilpurifier.com
 
If you have any questions, please feel free to contact us
Refrigerator truck (also called refrigerator wagon, refrigerated truck, refrigerated boxcar, freezer vehicle, freezer wagon, temperature controlled truck, refrigerator car, preservation vehicle) is used to carry perishable stuff at specific temperatures.

The cooling device could be of famous brand such as Carrier, Thermoking--

There are two types of power driving ways - one is powered by vehicle engine through PTO, the other is driven by a separately carried power unit.

According to the transport stuff category (fresh or frozen), there are two main lowest temperature unit (-5°and -16°) for your option.

We use high quality van body for temperature reservation. The box surface material could be fiberglass,aluminum or stainless steel. The padding material is polyurethane foam that has super temperature preservation ability with varieties of thickness options.
Refrigerator Trucks,cold food transportation truck, refrigerated van, frozen truck, freezer truck, truck with refrigerator
CHENGLI SPECIAL AUTOMOBILE CO.,LTD , https://www.clwcntruck.com