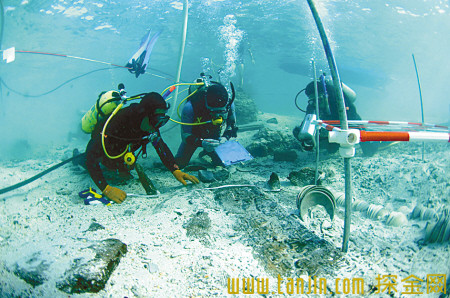 Xinhua News Agency, Changsha, January 21 Donghong Luhong excavates an Eastern Jin Dynasty cemetery, Changsha Youth Palace discovers the ancient wall... Hunan Provincial Institute of Cultural Relics and Archaeology recently announced the "Army of Hunan Archeology Report" in Hunan Province. ". At the same time, the Institute conducted an underwater archeological survey for the first time in 2014, which enabled Hunan's underwater archeology to achieve a "zero breakthrough."
According to Guo Weimin, Director of the Institute of Cultural Relics and Archaeology of Hunan Province, in 2014, the ancestral site in Luhong, Dongan, excavated a burial site in the Eastern Jin Dynasty, and unearthed bricks, celadon, gong, paperweight and other related artifacts. In addition, Pingjiang, Blue Mountain and other places also excavated the tombs of this period. The excavation of these tombs not only supplemented the archaeological data of Hunan during the Six Dynasties period, but also provided materials for the establishment of a more complete archaeological chronology, and also provided important archaeological evidence for understanding the culture and society in that particular period.
In addition, the ancient city wall discovered by the Changsha Youth Palace is a true record of the surviving superimpositions and changes of several dynasties. It has added new materials for the study of urban archaeology and urban history in Changsha; a series of bamboo slips have been found in the three wells in the urban area of ​​Xiangxiang. Judgment of the official documents of the State of Chu provides important information for understanding the administrative setting of the State of Chu in Hunan and related socio-economic and historical geography. The excavation of bronze weapons in the Tombs of the East Han Dynasty in the Qilutong Zipo is a true reflection of the disputes between the Bing and Ge...
In September 2014, the Hunan Provincial Institute of Cultural Relics and Archaeology conducted an underwater archaeological survey for the first time in the Qinshuihe section of the city of Tsu, resulting in a "zero breakthrough" for underwater archaeology in Hunan and a larger-scale underwater archaeological survey of the rivers and lakes in Hunan. Exploration and excavation laid the foundation.