The pipeline cleaning vehicle is an important tool to help clean the sewage pipelines. During the cleaning process, a large amount of water is needed. Since the pipeline cleaning vehicle is used to clean the dirt, most of the time it will not use the drinking water. In this case, the use cost is too high. Instead, it will use other water sources, such as rivers and ponds. When using these water sources, pipeline cleaning vehicles have relevant requirements for the use of vehicles.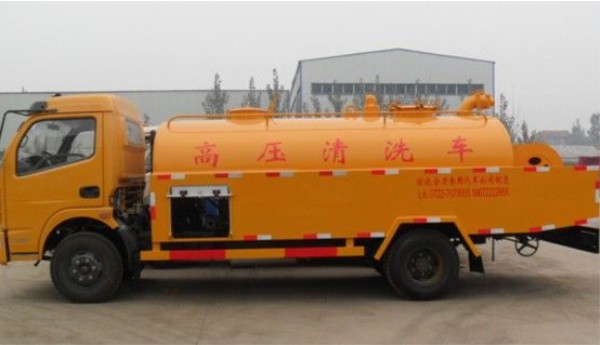 Most of the pipeline cleaning vehicles use the water in ponds and canals during the cleaning process. The water sources in these areas are relatively clean and the amount of water is relatively large, which can support the pumping of pipeline cleaning vehicles. However, when pumping water, make sure that the suction pipe end is completely in the water, so as to avoid adsorbing sludge, dirt, sediment, stones and other debris from the water. This is equivalent to using dirty water to clean the pipeline. The more dirty it is cleaned.

Before the pipeline cleaning vehicle absorbs water, it must be ensured that the inlet pipe is in a vacuum state before it can ensure that water can be sucked into the tank. The sealing system of the water inlet pipe system should be sufficient, and the hose and the rigid pipe must not be damaged, so that no leakage will occur and no suction will occur.
No matter whether it is before or after water absorption, the pipeline cleaning vehicle needs to be stopped to ensure its normal use. In the winter, due to the cold in the north, most of the pipeline cleaning vehicles are in a suspended state. At this time, the water in the vacuum pumps and pipes should be drained to avoid freezing and damage. The difference between a pipeline cleaning truck and other special vehicles is that it has a sewage pipe. During the process of using the sewage pipe, there will be related impurities. It is necessary to periodically remove these debris, so that the water in the boiler can be cleared.
Pipe cleaning car on water What are the requirements? Article related matters using pipe cleaning car also came out to introduce, pipe cleaning car drivers when using this dedicated vehicle to be able to distinguish, ensuring the best and most correct Use a good pipe to clean the car.
AS A PROFESSIONAL WARPING MACHINE MANUFACTURE. WE PROVIDE FULL RANGE OF MACHINES TO THE INTERNATIONAL MARKET.
WE PRODUCE DIRECT WARPING MACHINES, SPANDEX WARPING MACHINES (ELASTIC YARN WARPING MACHINE) AND SPLIT WARPING MACHINES.
THOSE MACHIENS FIT FOR 21*21 AND 31*21 SIZE BEAMS. BUT WE CAN ALSO PROVIDE CUSTOM-MADE PROVIE.
ALL THOSE MACHINES ARE WITH COPY FUNCTION.
Warping Machine,Copy Style beam Warping Machine, Yarn Warping Machine,High Efficiency Warping Machine
CHANGHZOU A-ZEN TEXTILE TECHNOLOGY CO.,LTD , https://www.warpknittingmachinery.com