Eaton was
recently awarded the "Green Development Sharing Future" Corporate Social Responsibility (CSR) Excellent Case Award jointly organized by the Shanghai Municipal Government and a number of authoritative media and institutions. The award fully affirmed Eaton China's unremitting efforts and outstanding achievements in promoting sustainable development through innovation. As an important category of the 2016 CSR Excellence Case Awards, Eaton has become one of five companies that have won the "Best Case for Green Products/Services of the Year" award.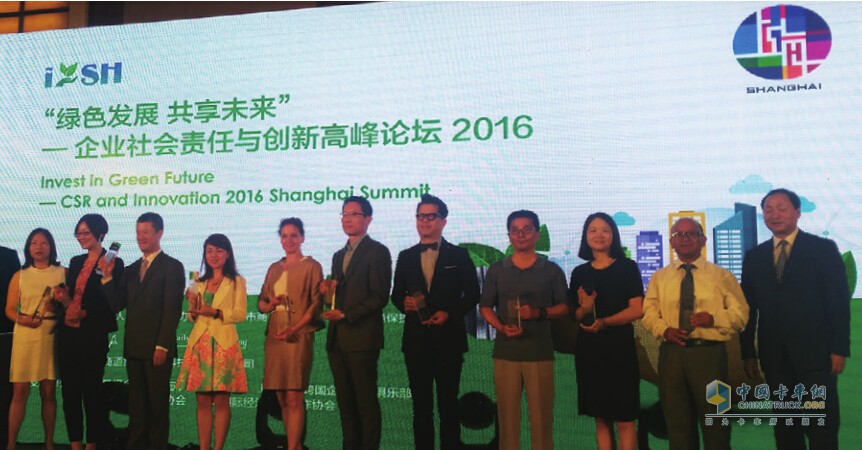 "Green Development Sharing the Future" Corporate Social Responsibility and Innovation Summit 2016
Zhou Tao, President of Eaton China, said: "We are very pleased that we have once again received recognition from the industry in our efforts to implement corporate social responsibility and sustainable development. As a long-term dedication to the Chinese market for power and energy management companies, Eaton has been committed to technological innovation and Local innovation helps local customers improve energy efficiency, reduce emissions, and promote sustainable economic, environmental, and social development."
The "Green Development and Sharing the Future" CSR case selection activities are under the joint guidance of the Shanghai Municipal People's Government Information Office, the Shanghai Municipal Commission of Commerce, and the Shanghai Municipal Environmental Protection Bureau. The liberation daily • Shanghai Watch, Shanghai Daily, and Oriental Net co-sponsored. The three-month event has gathered a wide range of excellent practice cases around the theme of green innovation and value sharing. A total of 100 cases from 83 companies have been received. Through expert review and public voting, 49 CSR outstanding cases have finally emerged as leaders. The model of green development in Shanghai has driven the green and harmonious development of Shanghai's economy.
Eaton won the award this time for its innovative new energy transportation technology to help China's bus market achieve sustainable development. As one of its most influential green technologies, Eaton introduced the first bus equipped with a hybrid system to the Chinese market in 2007. At present, more than 10,000 city buses with Eaton hybrid systems have been operating in 78 cities in China with mileage exceeding 1 billion kilometers. Compared with non-hybrid vehicles, fuel savings can reach or even exceed 40%. Reduce fuel consumption by about 100 million liters and reduce carbon dioxide emissions by about 250,000 tons.
The structure of the traditional wipers, there are inevitably multiple pressure points, already cannot adapt to modern car windshield this mainstream surface design, usually, use three months after they leave the car appeared different degree: scrape wash not ideal, water mark excessive noise, friction, thus seriously affect reason such as driving snow days safe! Without bone wipers system with unique intelligent adaptive spring steel shell fragments, dispersed homogeneously pressure, make each part blade force balance, avoid the disadvantages of the traditional windshield wipers.
No Bone Brush Wiper Blade pursuit and aerodynamically perfect union, eliminate high-speed car when the wind, the movement caused to glass jitter blade wear to a minimum.
Boneless wipers is simple in design, structure, weight very light light and small, more make the yushua electrical prolonging the car 2 or more times;
No Bone Brush Wiper Blade without replacement wipers arm, the only change car traditional skeleton wiper blades can, more economical, more convenient.
No Bone Brush Wiper Blade
No Bone Brush Wiper Blade,Silicone Wiper Blades,Flat Wiper Blades,Universal Wiper Blades
COMOTECH ASIA PACIFIC (HANGZHOU)CO.,LTD , https://www.capwiper.com