Recently, a relatively special report on the supervision of cable manufacturers was discovered and shared with everyone. On December 19th, the Shenyang Municipal Bureau of Quality Supervision announced the results of the special supervision and inspection of the 2017 wire and cable production permit certified companies. Unlike the previously notified product quality failure project, it reported the results of the factory inspection. Of the 19 certified cable companies supervised this time, in addition to one company that has stopped production and two that have refused inspections, the other 16 companies were found to have more than 40 problems, mainly ranging from raw material procurement and purchase inspection to production. Process, product delivery, full management and documentation.

These issues are very representative, not only reflecting the common problems in the production and management of industrial enterprises, but also seeing another important direction of the industry's special inspections. We have collated it into a list, which is roughly divided into 9 types of questions for everyone to refer to in self-inspection in daily production management or to make plans in the coming year.

1, the record is not standardized, incomplete and missing records
1.1 Missing records: No records of disqualified products disposition (no disqualified product handling records and records)

1.2 Records are not standardized: Inspection records are not standardized (including incoming inspections, process inspections, factory inspections); data modification is not standardized (including stock, process, factory inspection records, and monitoring records); ballpoint pen fills in records; time incomplete/record is not clear Year of labeling; no tester's signature on the factory inspection record.

1.3 The records are incomplete: The records of key processes and quality control points are incomplete; raw material procurement records are incomplete; the inspector's training records are incomplete; and inspection records (including purchase, process, and factory inspection) are incomplete/incomplete. Among them, the common lack of spark test, thermal extension test, voltage test, insulation thickness, insulation resistance test records; Note: strict and meticulous supervision beyond imagination, check the record to: missing the July 19 YJV0.6/ 1 kv 4*150 cable thermal extension inspection record; KVV 450/750 2*1.0 two-core cable insulation thickness and conductor resistance inspection records are incomplete (only one core tested and two cores should be tested).

2, lack of instrument verification certificate: lack of laboratory thermometer verification certificate; lack of 1000mm steel ruler, thermal extension test weight, thickness gauge verification certificate; laboratory micrometer micrometer (division value 0.001mm) and thermal extension test device is missing Certificate of verification; lack of thermostatic water bath calibration certificate.

3. Absence of related production equipment: For example, extrusion-insulated low-voltage power cable units lack three-layer co-extrusion production lines, annealing equipment, and vulcanizing equipment; again, overhead insulated cable units lack annealing equipment, 1+1 or 1+2, or three layers. Coextrusion production line.

4, process flow chart and actual inconsistency: For example, companies only produce single-core 10kv overhead insulated cables, process flow chart contains multi-core products, and actual inconsistencies.

5, key processes, quality control points, special processes without logo
6, the product packaging logo over the use of
7, the purchase of raw material certificate content without the factory date
8. The placing and marking of articles are not standardized: The raw materials storehouse is not standardized, the mark is not obvious; the raw materials are placed in the factory area is not standardized; the raw materials and semi-finished products are placed in disorder; the semi-finished products are placed in disorder, and there is no display mark; It is mixed with the finished product of another company; the position of individual inspection instruments and equipment is not convenient for inspection personnel to operate.

9. Poor production environment and others: There is a damage to the production line in the plant; air-conditioning damage cannot guarantee the experimental temperature; the glass in the laboratory environment is damaged; there is debris in the factory inspection area.

Steel Bar Bender
Steel Bar Bending Machine is one of steel bar processing machinery. It is essential in construction industry. We could use Steel Bending Machine to bend different steel bars, like round steel bar, HRB335 ribbed steel bar, ordinary carton steel with diameter from 4mm to 60mm according to construction need. The bending angles are ranging from 0 degree to 180 degree.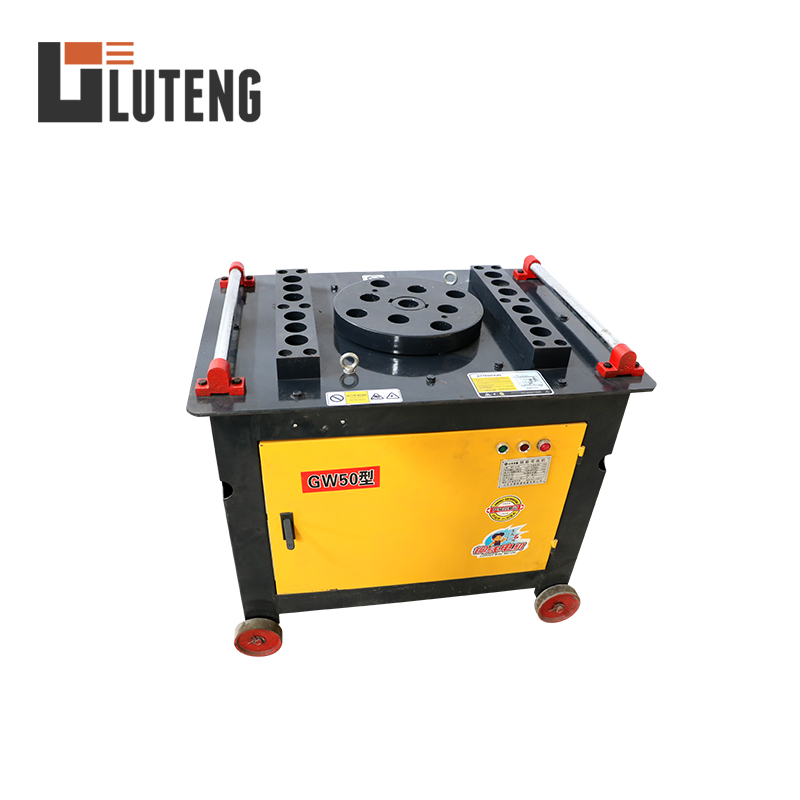 Application scope of steel Bar Bending Machine
Bending machine for steel bar is extensively applied to construction and steel bar process factories, such as house building, tunnel building, bridge building, highway building and road construction and so on. With this machine, we could get different angles of steel bars needed for working. This greatly improve work efficiency, promise construction quality and construction progress.
Steel bar bending machine manufacturers
With the increase in demand for steel bars in building industry, there have a lot of steel bar bending equipment manufacturers in China. LUTENG, as one of top manufacturers, has a very good reputation in overseas reinforcing steel process machines market. Our bending machines has been sold to Australia, USA, Canada, South Africa, Cameroon, India, Thailand, etc. LUTENG always trust that long-term cooperation with clients will benefit both customers and us. So the factory pays a lot of attention to quality of bending machines. Also, the steel bar processed equipment price is very competitive and fair on the market.
Advantages of LUTENG steel bar bending machines for sale
As we all know, the motor power will determine working capacity of steel bar bending machines, so LUTENG has focused on the research and development of motors for many years. It meets international standard. The motors produced by us could work continuously, even work under heavy load.

LUTENG clad layer on the surface of working disc and other accessories. This is against rust and wear resistance. It makes them have a long-life service time.

The main body of rebar bending machines is made of excellent materials, which makes sure it have a beautiful look and uneasy to rust.

Worm gear drive system is very important for steel bar machines for sale. It is used to transmit motion and power. LUTENG uses anti-friction material to produce worm gear, which makes it high transmission efficiency, small erosion, good heat dissipation.

Heavy duty reduction gearbox makes the machine work a long time.

All our construction bending machines works steadily with low noise. The steel bending machine price is very reasonable that accepts well by our clients.
Our company:

Shandong Luteng Machinery Co., Ltd. is a professional Construction machinery, road machinery, earthwork machinery, engineering machinery manufacturer in China, which was established in 2002 and located in the hometown of Confucius and Mencius -Jining City, Shandong Province.It is one of the machinery manufacturing bases of China . Our main products are: CNC Stirrup Bending Machine, Double head bending machine, Cage Welding Machine.Construction machinery, road machinery, earthwork machinery, engineering machinery and so on.

The company has a strong research personnel, with rich experience and the production of innovative thinking. We are able to provide our customers top quality products, competitive price, fast delivery and satisfactory service.We also can customize non-standard machines according to your requirement.

Meanwhile, we can also offer overseas installation, training, maintenance, commissioning for each client and confirm they can operate Luteng machine properly and enjoy the high performance and best service during operation.

We sincerely welcome domestic and international public communication calls and inquiries.
Hopes our absolute sincerity cooperation, creates magnificently on the basis of mutual benefit, create brilliant!


Steel Bar Bender
Steel Bar Bender,Metal Bar Bender,Steel Bending Machine,Metal Rod Bender
Shandong Luteng Building Equipment Co., Ltd. , https://www.lutengmachinery.com