In modern industry, industrial automation control plays an important role in the production safety efficiency, management, and environmental protection. The analysis system (monitoring system) as an important part of automation must collect relevant data accurately and efficiently, providing all the necessary control basis for automated control.
Analyzing the composition of the medium in the process flow can provide relevant production control basis for industrial production, and implement relevant control and automatic control accordingly.
The analysis accuracy of gas does not only depend on the analysis accuracy of the analytical instrument, because most analytical instruments must have an ultra-quiet, dry constant-temperature, constant-flow sample gas for accurate analysis. Therefore, an integral part of the gas analysis system is: System, pretreatment system, analysis instrumentation.
Control-sensitized by the design and manufacture of Chinese HM-YQ500 CO boiler flue gas line analysis system, the field can be effectively applied to all kinds of complicated working conditions, reasonable structure, stable performance, fast response time, high analysis accuracy, easy operation, maintenance Small amount. Applied to the smoke monitoring technology of major steel plants, it plays a crucial role in energy saving, consumption reduction and safe production.
By installing an on-line analysis system on the gas boiler flue to continuously detect the CO in the flue gas, it provides a basis for a reasonable adjustment of the combustion conditions of the gas boiler and achieves the purpose of saving energy and reducing consumption. The system installation structure on the site is as follows:


The sampling probe is an important part in the measurement of gas boiler flue gas. It is subject to harsh conditions such as the erosion of hot gas flow, the corrosion of smoke, and the blockage of smoke and dust. It is very important to correctly configure the sampling probe and the system, which is directly related to the normal and stable operation of the system.
HM-YQ500 boiler flue gas CO on- line analysis system consists of sampling probe, sample gas processing device, sampling pump, analysis instrument and control backflush unit. Its characteristics are:
1. Sampling probes do not require heat treatment, high filtration accuracy, direct insertion into the flue gas sampling, temperature resistance, corrosion resistance, anti-erosion ability, automatic on-line regular cleaning function, sampling probes without blocking for more than 1 year.
2. The quality of imported analyzers, the price of domestic analyzers, and the inadequacy of adjustment experience and factors that professionals use in the field of imported analyzers in China are integrated into the instrument through secondary design integration. The accuracy of instrument analysis is even higher. stable.
3 , the system structure is simple, compact, installation and debugging, operation and maintenance are very simple and convenient, installed near the sampling point, reflecting the faster.
4. The design of air source driven sampling pump is safe and reliable, with large sampling flow and long service life.
This system is a complete set of system for continuous sampling, automatic processing and analysis. It can be widely applied to the monitoring of boiler flue gas composition, providing a signal and basis for energy conservation, consumption reduction and safe operation, and can also be applied to gas composition analysis of similar equipment.
1. Applicable operating conditions
1.1 Gas pressure: Gas pressure before entering the system is -10Kpa-10 Kpa
1.2 Gas sample temperature : The gas sample temperature is not higher than 500 °C before entering the system
1.3 gas sample humidity : no condensation
14 Dust concentration : ≤ 1000mg/Nm3
1.5 Corrosive: Â Â  Gas samples do not contain strong corrosive components
2. Suitable environmental conditions
2.1 Ambient temperature: 5 °C -45 °C
2.2 Relative Humidity: ≤ 85%
2.3 Ambient air pressure: ≥ 77Kpa ( elevation less than 2000m)
2.4 Atmosphere: No explosive atmosphere is allowed in the environment
3. Power supply
3.1 Supply Voltage: AC220V ± 22V
3.2 Power frequency: 50HZ ± 0.5HZ
3.3 Power Consumption: < 1000VA
Clean shed,also known as clean booth, Clean Room or clean workstation, is the most quickly and easily creat a simple clean room.Internal clean class level of the clean shed can up to 100-100000 level, clean room is commonly used in the turbulence-clean room space.Clean room adopts the separate high efficiency HEPA filters, or ULPA as well as the FFU to constitute the senior clean space.
Clean room advantages:
1 Economy-compared to the traditional civil style clean room,the cost is greatly reduced.

2 Efficiency-supply clean vertical airflow,maintainning the clean class level of indoor.

3 Convenience-a standard 10*10 clean shed just only take a few hours to install,easier disassembly.

4 Flexibility-bracket type can increacse the number of FFU in order to raised clean class level from ten thousand up to one hundred.
Application:
Clean room used for high purification level requirement of internal workshop,such as the domain of assenbly linework,high-precision product assembly area,like LCM, CMOS Camera Module, Touch Play, Optical Module, FILM,Packing.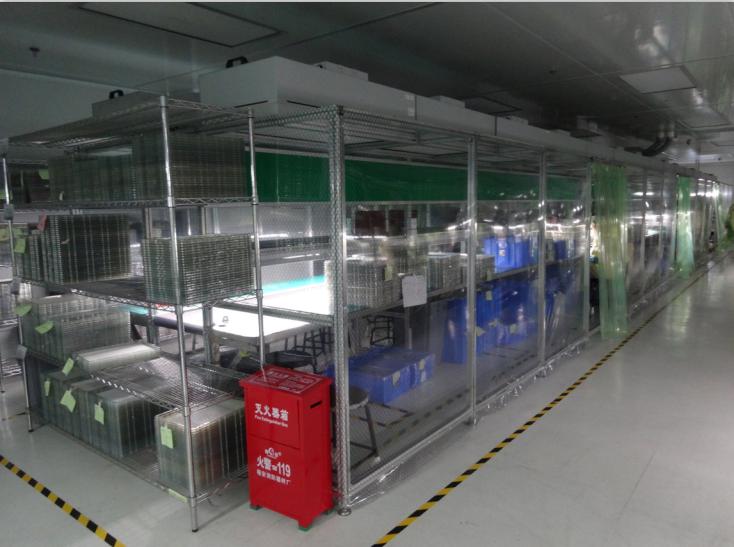 Clean Room
Clean Room,Dust Free Room,Air Shower,Air Cleaning Equipment
Shenzhen Hongdali Machinery Co.,Ltd , http://www.conveyortop.com