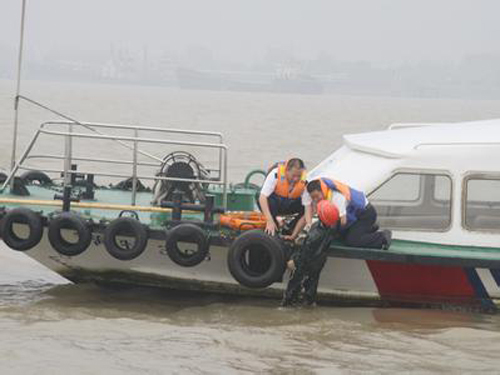 In order to effectively improve the emergency response and handling capacity of the brigade's law enforcement officers, the Dongrun Port Brigade's law enforcement brigade conducted life-saving fire drills in accordance with the designated monthly exercise plan.

On the afternoon of October 13, 2014, the law enforcement officers of the Dongliugang Brigade patrolled the area as required by the drill plan. At 1430, the exercise officially began. The cruise law enforcement officers received a telephone call from the brigade. There was a drowning near Dongfu No. 3 Baifu. The sea patrol immediately rushed to the waters of the incident. At 1438, the drowning man was found on the port side of the sea patrol boat. The leader of the Yang Yinshu squadron immediately commanded the sea patrol to slow down and approach the target, and issued a sound signal as required. Law enforcement officers immediately picked up the flat-throwing rope life buoy and the life raft to throw it at the target in a timely manner. With the joint efforts of everyone, the drowning personnel were quickly rescued and boarded to carry out simple lifesaving on the spot. At 1456, the ferry of the "Shiping Chedu 666" was dispatched to the police and the boat caught fire. The law enforcement officers immediately turned around and picked up the fire hose. After reaching the fireboat, the law enforcement officers immediately performed water-splash and the fire had been taken 4 minutes later. Under control, law enforcement officers reported to the on-site commander that the fire was controlled. At 1514 the exercise ended.

The lifesaving firefighting exercises carried out this time in a close-to-actual manner have greatly improved the life-saving and emergency firefighting capabilities of maritime law enforcement personnel, improved the quality of the team, and laid the foundation for the future brigade to effectively respond to emergencies and complete the on-site cruising and rescue missions. solid foundation.

1.Novel appearance and bright appearance
2.The hot air distribution is uniform, and the drying efficiency is increased
3.All digital P.I.D control
4.Cylinder and internal parts are made of stainless steel
5.The charging barrel is separated from the bottom, the material cleaning is convenient, and the material changing is quick
6.Overheat protection device, can reduce the accident caused by man-made or mechanical failure
Adhering to the " integrity,innovation,mutual win,beyond" business concept, and shoulder "do the best plastic&rubber auxiliary machine in China" corporate mission, according the market and customer demand-driven,scientific management,fiexible production. For the customer,supplier,employees,enterprise,society to create greater value, is committed to be the most influential plastic&rubber machine industry leader.
Plastic Hopper Dryer,Hopper Type Plastic Dryer,Hot Wind Style Plastic Hopper Dryer,Hopper Dryer For Plastic
Ningbo Tongyong Plastic Machinery Manufacturering Co. Ltd. , http://www.tongyongmachinery.com