SAIC Iveco Hongyan launched the "Jieshi" GENLYON heavy truck product at the National Stadium. At the listing site, SAIC Iveco Hongyan General Manager Yang Shuyi told the China Youth Daily reporter that "Jieshi" GENLYON was developed by the Italian IVECO "STRALIS" heavy truck R&D team and The Chinese local engineers jointly researched and developed on the STRALIS platform, which integrates the world heavy truck contemporary technology and domestic heavy truck practical experience, and defines a new standard for the new generation of heavy trucks, marking the strategic breakthrough of SAIC Iveco Hongyan in the development of commercial vehicles. .
Yang Shuyi said that since its development in 2006, GENLYON has passed the conceptual design, sample trial production, and small-batch testing. It has passed a test of a 2 million-kilometer China typical road vehicle reliability based on European test standards. , 500,000 drive axle bench test, cab assembly European bench test, etc., product performance combines the actual situation of European technology and China's road consumption environment.
Specifically, "Jieshi" GENLYON adopts internationally leading paint technology and can effectively resist acid and alkali corrosion; the maximum height of the cab reaches 2200mm, and the passability and convenience are greatly improved; the indoor noise of constant speed driving is 68±2db; The multi-function display instrument panel and CAN-BUS bus have reduced the failure rate of the electrical appliances; the IVECO original engine, C erso r9, fully meets the national III emission standards and can be easily upgraded to the Euro V standard; there are few maintenance parts and maintenance costs. Low, the oil replacement cycle can reach 40,000 kilometers; the cab body passed a strict European frontal crash test, in line with the European Union's "commercial vehicle cab occupant protection" (ECER29) regulations and standards.
Yang Shuyi told reporters that a good product is only the beginning of success. In terms of engine support, after-sales service, model layout, price range, and follow-up production capabilities, Hongyan also created a three-dimensional competitive system for the "Jieshi" GENLYON. At the press conference that day, the CURSOR9 engine of SAIC-FIAT Hongyan Powertrain Co., Ltd. was announced. According to relevant sources, the production of SAIC-Fiat Hongyan Powertrain Co., Ltd. will end its lack of its own independent engine supplier. The situation. This series of engines adopts Italian FPT technology and is located in the forefront of the world in terms of power, economy and environmental benefits. The 8.7-liter displacement delivers 400 horsepower, weighs only 865 kilograms, and boosts power up to 46HP/L; oil change intervals exceed 100,000 kilometers.
Yang Shuyi introduced that in terms of sales and after-sales, Hongyan began to organize Jieshi's after-sales service training and technical reserve work six months ago. It also increased the efforts of the dealer team to attract a group of passenger vehicles and mini vehicle dealers. , Change the extensive sales model of heavy trucks, improve service levels, and increase efforts in relatively weak financing sales.
In terms of models, the first models introduced by Jieshi will be tractors based on the logistics market. The full range of Jieshi vehicles, including trucks, will be available after June. In terms of price, the price of Jay Lion will be similar to the current domestic high-end heavy truck price, between 250,000 and 370,000 yuan, covering multiple regions, to meet the individual needs of different customers.
Yang Shuyi said that the current commercial vehicle market is in a low tide. However, Hongyan is full of confidence in Jieshi's products; in addition, the heavy truck market is mixed, and the market segment is red. Rock has many opportunities. According to him, sales of Hongyan heavy trucks continued to increase in February, with orders exceeding 4,000. Hongyan's new plant will be officially put into operation in April this year, at which time the company's production capacity and level will be greatly improved.
View related topics: New Generation Hongyan Heavy Truck - Jieshi GENLYON heavy truck listing
U Groove Ball Bearing-We are engaged in the production this type of U groove track roller bearing mainly in material of carbon steel, with the surface being zinc/ copper plated. We can supply various kinds of bearings according to customers' requirements. Our products enjoy great popularity in the worldwide markets, like Asia, Europe and the USA.Apply to gate track(gate track bearings) and furniture sliding door roller
Bearings Material : carbon steel , chrome steel , stainless steel

U Greoove Ball Bearings Surface : Zinc / copper plated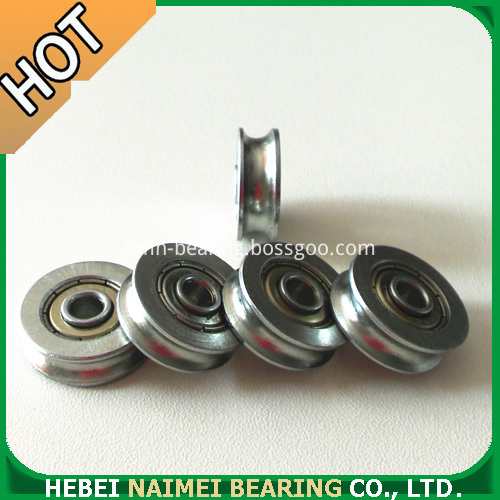 We sincerely hope to set up a business relationship with you. For more information, please visit our website or contact us directly with your questions or inquiries.
U Groove Ball Bearing
U Groove Ball Bearing,U Groove Bearing Wheel,U Groove Pulley Bearing,U Groove Roller Bearing
Hebei Naimei Bearing Co., Ltd. , http://www.nmn-bearing.com