The first Shanghai 3D Printing Industry Conference & Additive Manufacturing Industry Promotion and Technology Application Forum was held on May 30 in Caohejing Songjiang Garden in Shanghai. More than 300 industry experts, business representatives and representatives of investment institutions attended the conference and the 3D printing industry. Develop advice and advice.
3D printing, that is, additive manufacturing, is called "manufacturing technology with industrial revolution significance" and has broad application prospects. Shanghai has always paid close attention to the development of the 3D printing industry and listed it as one of the areas for the development of the "four new" economy. Songjiang District, as a large industrial manufacturing region in Shanghai, has accelerated the integration of industrialization and informatization in recent years, further strengthened the research and development, application, and industrialization of smart manufacturing technologies such as 3D printing and industrial robots, and has planned and deployed the Caohejing Songjiang Park. The industrial agglomeration area represented. The park adopts the "six in one" integrated promotion model of "Industrial Internet+Industrial Alliance+Industrial Base+Industrial Fund+Industrial Finance+Industrial Talents" and actively supports related units to carry out technical breakthroughs around key links such as materials, equipment, and application technologies, encouraging Enterprises set up a 3D printing application service platform to promote the demonstration application of 3D printing technology. At present, the Caohejing Songjiang Park has formed a relatively complete industrial chain around the key links of 3D printing, and has fostered a number of advantageous enterprises in the subdivided fields. There are a number of areas in aerospace, automobiles, molds, medical devices, and fast-moving consumer goods. Batch demonstration application.
At the forum, the Shanghai Additive Manufacturing Association was formally established and settled in the Songjiang River Park. There are nearly 100 members in the association. According to reports, the association will set up a platform to guide 3D printing companies and institutions of industry, research and development to jointly promote independent innovation and form core competitiveness; face market demand, strengthen the connection between new technologies and traditional industries, and promote the formulation of industry standards; "Innovative innovation" is an opportunity to explore new formats and new models for 3D printing.
EvoTec Three Phase Synchronous Generator including Industrial Three Phase Synchronous Generator,80Kw Three-Phase Generator, 50Hz Brushless Generator . Our alternator are widely used in industry, commercial, real estate, hospital, hotel, railway, telecommunications, data-centers and mining etc.
The specific technical features are listed below:
Speed: 1500rpm or 1800rpm
Frequency: 50 Hz or 60Hz
Number of Poles: 4
Power: up to 3500KVA
Voltage: 110V-690V,High Voltage:3.3KV-13.8KV
Insulation: class H
Power Factor: 0.8
Voltage Regulation Rate: ±0.5%
Altitude: 1000M
Temperature Rise Class: class H
Ambient Temperature: 40
Overload:10% for 1 hour in every 12 hours
Degree of Protection: IP21 (IP23, IP44, IP54 on request)

Special Features:
higher motor starting capability

a reliable long life with superior class H insulation

high thyristor load withstand capability for mobile phone and telecom applications

ease of maintenance with integrated components and outboard exciter/rotating rectifier

wide range of coupling discs/adaptor for single bearing configuration, suitable for wide range of engine brands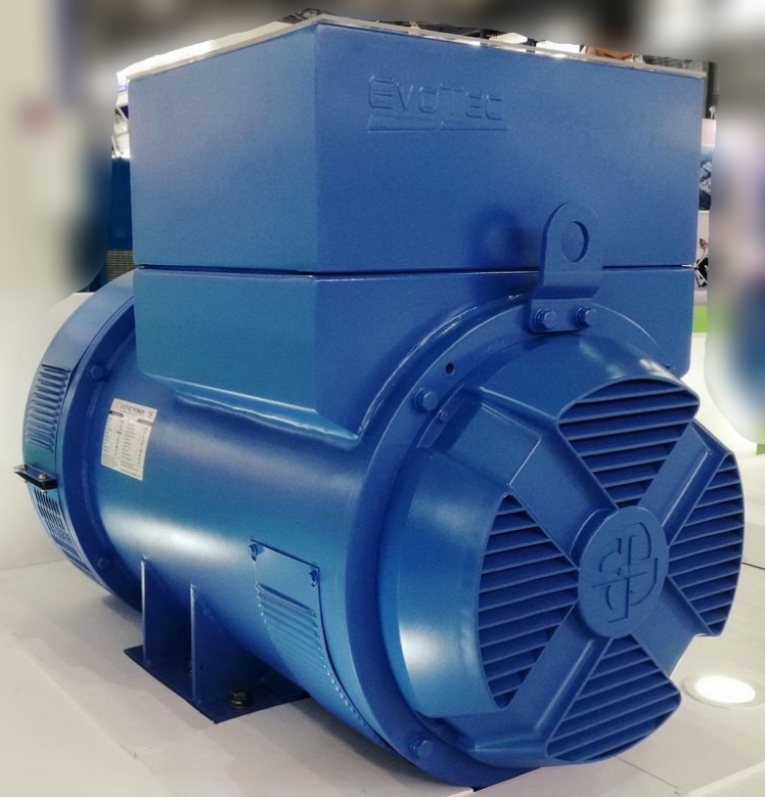 Industrial Three Phase Synchronous Generator
Industrial Alternator,Industrial Three Phase Synchronous Generator,80Kw Three-Phase Generator,50Hz Brushless Generator
EvoTec Power Generation Co., Ltd , https://www.evotecgen.com