At the symposium between Weichai Group's management team and the "Transformation and Upgrading of State-owned Enterprise" interview team, the reporters praised the Weichai Group's corporate videos in unison. Whether it is its brilliant struggle, it has jumped from a bankruptcy engine plant to an influential international enterprise in the equipment manufacturing industry in just over 10 years, or has been the first time in three multinational mergers and acquisitions since 2009. As well as sales revenue from the 10 billion yuan in 2004 to a breakthrough of 100 billion yuan in 2013, the reporters were extremely shocked.
According to Xu Hong, secretary of the party committee of Weichai Group, the recent goal of Weichai Group is to achieve sales revenue of over 200 billion yuan at the end of the "Thirteenth Five-Year Plan" and enter the world's top 500 companies. "To achieve this goal, we must take the road to internationalization." Xu Hong said.
Three Cross-border M&As Vigorously Promote Internationalization
Since 2009, Weichai Group has successively acquired the French Baudouin company, Italy's Ferretti Group, the world's top luxury yacht manufacturer, and signed a strategic cooperation agreement with the German KION Group.
Through the acquisition of Baudouin, Weichai accumulated experience in operating international companies at the lowest cost and entered the 15 litre engine field directly. Based on this new product development, Wei Chai's technology development cycle has also been greatly shortened. Not only has Weichai improved its overall strength and brand awareness, but it has also taken a big step toward international operations.
The acquisition of Ferretti had puzzled many CEOs. Why did Weichai, which specializes in producing engines, enter the yacht industry? Tan Xuguang gave a reasonable explanation: "Weichai's engine business is completely related to investment and driven by the macroeconomic impact and constraints. The correlation between luxury consumption and the economic cycle is relatively small, and those who buy yachts are billionaires or billionaires, and their consumption will not be reduced due to economic fluctuations.In terms of business structure, heavy trucks, Businesses such as engines and bulldozers are the most affected by the economic fluctuation cycle, and high-end consumer goods such as yachts are at the end of the shock wave. Weichai has thus achieved a major structural adjustment breakthrough and its ability to resist risks has greatly increased.
The cooperation with KION had alerted the German Chancellor Angela Merkel. Previously, the global hydraulic system has been monopolized by Germany's Bosch Rexroth, the United States Eaton, Japan Kawasaki and other companies, Linde hydraulic hydraulics owned by KION are not inferior to these companies. Weichai has mastered the core technology of the global hydraulic control system in one fell swoop. Resources. "The hydraulic system is linked to the transmission system. When Weichai's industrial chain is extended downstream and the hydraulic system is a core component to fully support the development of the industry chain, Weichai will gain absolute competitive advantage. Weichai's strategic restructuring Linde Hydraulic pressure will also cause major changes in the global hydraulic control system development pattern." Xu Hong told reporters.
"Two" blended to drive the "speed of picking firewood"
With regard to the speed and height of development of Weichai, Xu Hong believes that the deep integration of "two economies" will help boost transformation and upgrades as the power source.
In the construction of an information support platform, Weichai has recently introduced a brand-new full service center system and electronic parts catalog system, and developed and applied the "Full Time Cloud Conference" system and "Weichai Service Management Assistant System". In September 2013, with the aid of an information platform, the first phase of the Weichai Group's financial integration project was formally launched and the first set of group management system platform was established, involving the Group's 67 companies, branches and 5 overseas institutions. The TDM Phase III project was implemented, an intellectual property management system was established, and the ERP project was further implemented. With the help of information technology, Weichai has also trained a group of informatized talents with independent implementation capabilities and independent development experience.
According to statistics, in 2013, Weichai increased its efforts to independently develop and implement informatization projects. It independently developed and implemented 21 information projects and accumulated 10.49 million yuan in funds. Weichai has also spared no effort in investing in and supporting informatization. In recent years, it has invested 130 million yuan and established a professional informatization team with nearly 200 employees.
"In the next 5 to 10 years, the company will continue to implement information-based upgrading projects, integrate in depth, build "digitalized Weichai", realize digitalization of decision-making management, product development cooperation, customer service intensification, procurement logistics network, and lean production electronics. And sharing of knowledge management." Xu Hong told reporters.
Construction Hoist is divided into Material Hoist and Passenger Hoist.
Construction Hoist by hanging cage, driving mechanism, standard section, attachment, chassis, fence, electrical system and so on, which is often used to carry builders and building materials.
Because of its unique enclosure structure make it take up both comfort and safety, Construction Elevator is usually used with Tower Crane on the construction site, the average load in 1-3 tons, running speed is 1 to 60 m/min.
Construction Hoist Specification Table: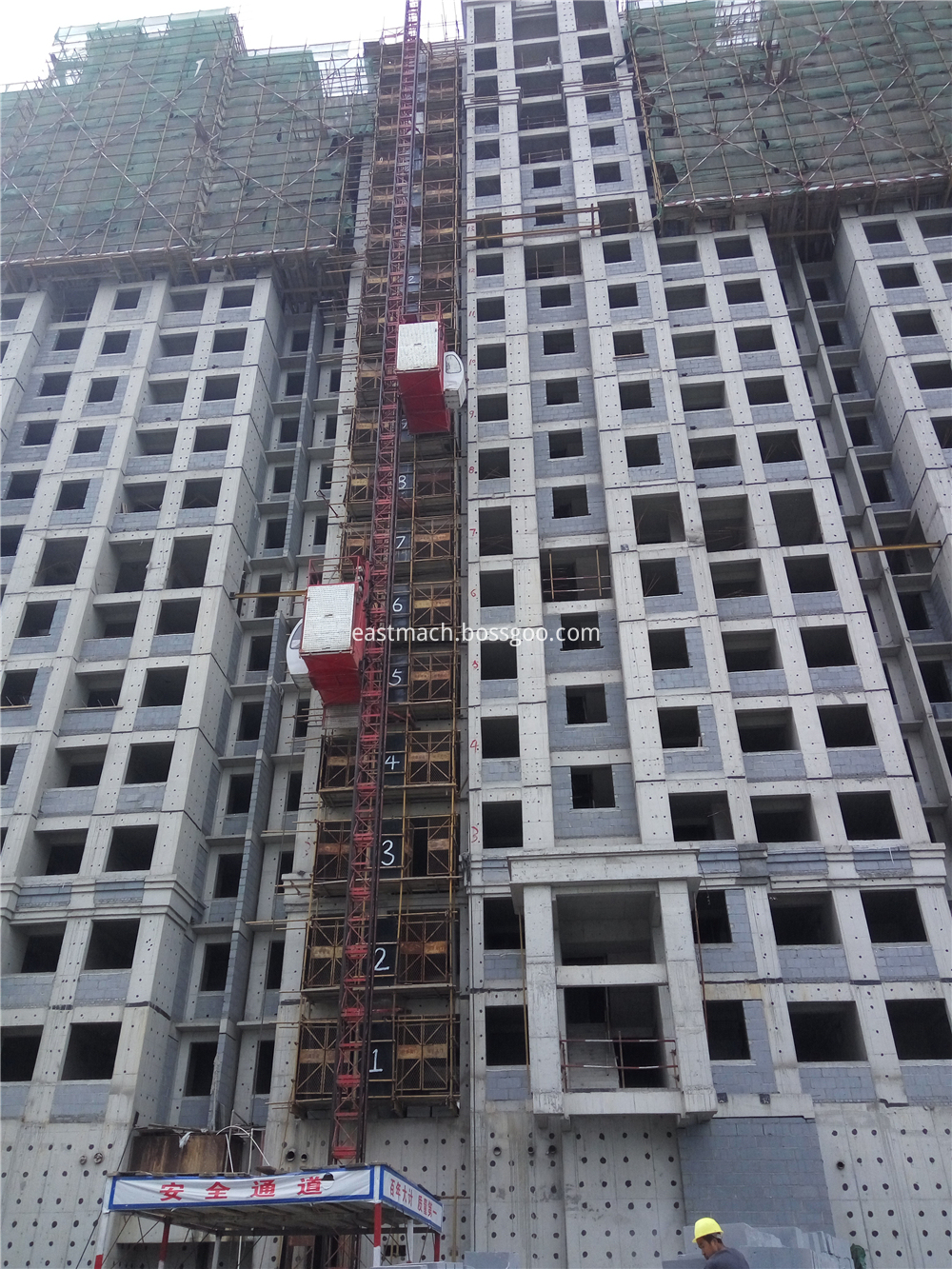 | | | | | |
| --- | --- | --- | --- | --- |
| NO | ITEM | UNIT | SC200/200 | SC100/100 |
| 1 | Rated Load | Kg | 2000/2000 | 1000/1000 |
| 2 | Rated lifting speed | m/min | 33 | 33 |
| 3 | Max lifting height | m | 150 | 150 |
| 4 | Cage size | m | 3*1.3 | 3*1.3 |
| 5 | Cage height | m | 2.4 | 2.4 |
| 6 | Starting current | A | 270 | 270 |
| 7 | Working current | A | 70 | 70 |
| 8 | Power consumption | KVA | 13*3 | 13*3 |
| 9 | Motors power | KW | 11*3/11*3 | 11*2/11*2 |
| 10 | Mast section weight | Kg | 140 | 140 |
| 11 | Weight for 150m height | t | 20 | 20 |
| 12 | Mast section size | m | 1.508*6.50*6.50 | 1.508*6.50*6.50 |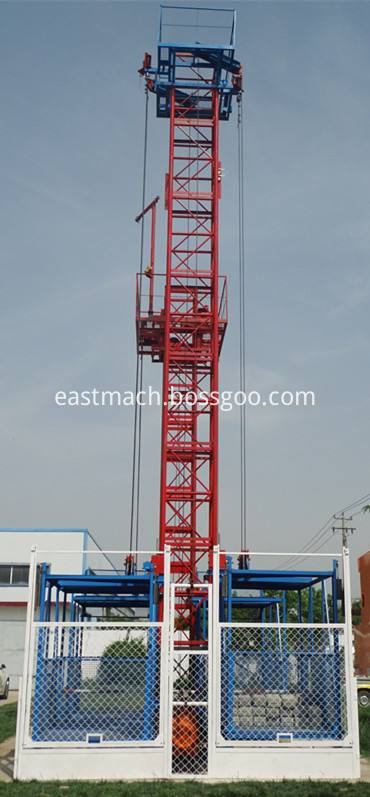 | | | | |
| --- | --- | --- | --- |
| ITEM | UNIT | SS100/100 | SS100 |
| Rated Load | kg | 1000/1000 | 1000 |
| Lifting speed | m/min | 23.5 | 23.5 |
| Standard height | m | 24 | 24 |
| Max lifting height | m | 80-130 | 80-130 |
| Cage size | m | 2.8*1.5*1.9 | 2.8*1.5*1.9 |
| Mast section size | m | 0.65*0.65*1.5 or 0.8*0.8*1.5 | 0.65*0.65*1.5 or 0.8*0.8*1.5 |
| Motors power | kw | 7.5*2 | 7.5 |
| Wirerope | / | 6*37+1-12-1670-R | 6*37+1-12-1670-R |
| Weight for 24m height | kg | 4350 | 3340 |
| Mast section main limb | mm | Φ76*4 | Φ76*4 |
Application Area:
Construction Hoist is widely used in construction such as industrial and civil building, bridge construction, downhole construction, large chimney construction and ship industry etc.
If you have any questions, please contact with us directly. Construction Hoist are produced with High Quality and Good Appearance. Welcome you can visit our Factory. For inqury, Please send mail directly to us.
Construction Hoist
Construction Hoist,Materials And Builders Hoist,Engine Hoist,Construction Elevator
Jinan East Machinery Co.,Ltd. , http://www.jneastmach.com